Hallo und herzlich willkommen zum Stampin' Up! Around The World Advent Calendar Blog Hop!
Ich freue mich sehr heute den Advent Kalender Blog Hop eröffnen zu dürfen. Dafür habe ich eine Karte mit dem tollen Besonderen Designerpapier Winterzauber und den Stanzformen So Viele Flocken für euch.

Von Heute bis zum 25. Dezember zeigen euch Demonstratorinnen rund um den Globus ihre Weihnachtsprojekte. Jeden Tag könnt ihr euch so inspirieren lassen und durch die Beiträge hüpfen, fast so, als würdet ihr ein Türchen bei einem Adventkalender öffnen. 😀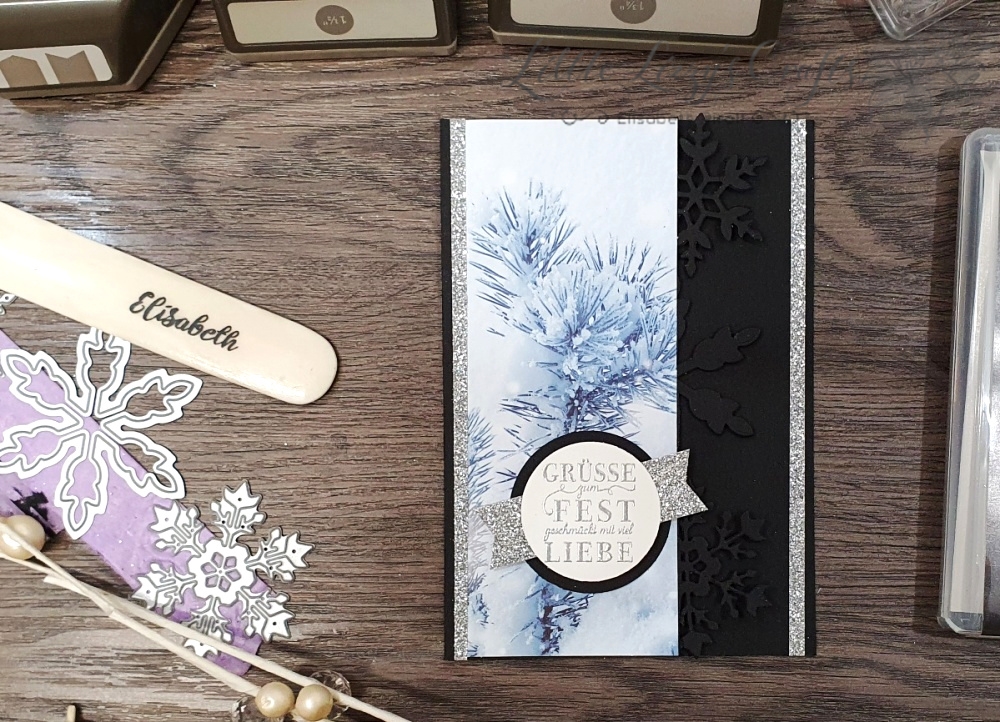 Für mein Projekt habe ich mit den Schneeflocken aus den Stanzformen So Viele Flocken ein bisschen partielles Stanzen betrieben. Dafür wird die obere Platte in der Stanzmaschine mit der Kante so ausgerichtet, dass nur ein Teil der Stanzform bedeckt ist und somit auch nur ein Teil ausgestanzt wird. Für das Design dieser Karte könnte man allerdings auch etwas schummeln, und die Schneeflocken normal ausstanzen und dann zwischen zwei Lagen Farbkarton kleben um denselben Effekt zu erzielen. Wenn man mehrere hintereinander klebt, macht es die Strahlen der Schneeflocken auch stabiler.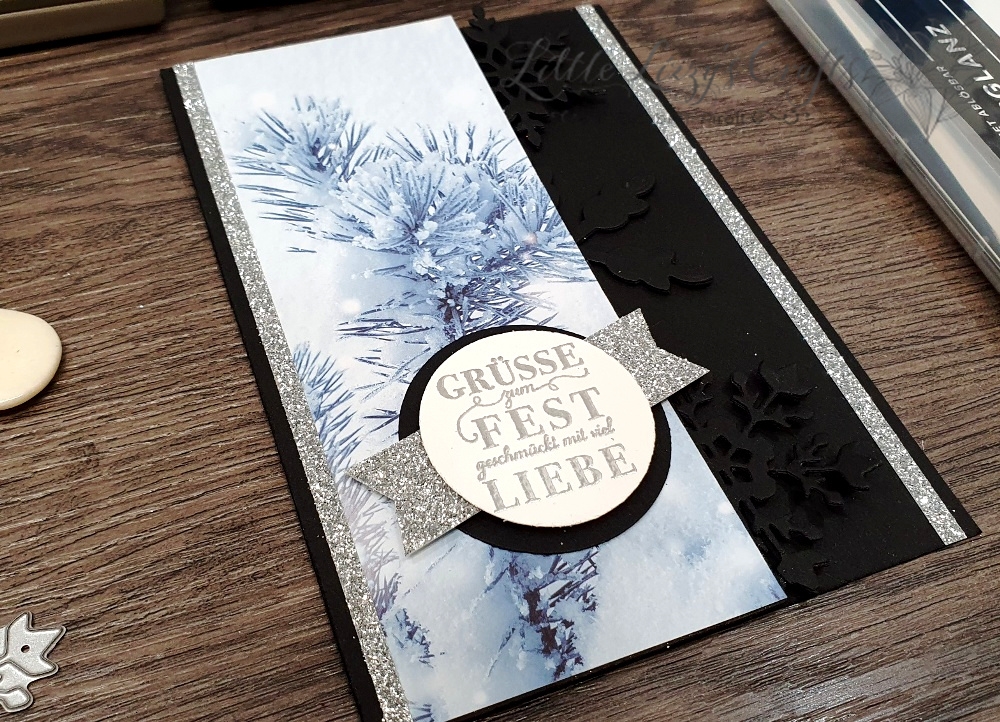 Die schmalere Kartenvorderseite eignet sich für das Besondere Designerpapier Winterzauber ideal, weil man so gleich 2 Karten aus einem Stück 6"x6" herausbekommt und noch eine 1" breiter Streifen für ein anderes Projekt überbleibt. Gerade mit diesem wunderschönen Papier kann man gar nicht genug Projekte gestalten.
Um das Ganze noch ein bisschen Aufzupeppen habe ich 2 dünne Streifen Glitzerpapier in Silber aufgeklebt und ein kleines Fähnchen mit der passenden Handstanze ausgestanzt. Der Spruch ist im Übrigen aus dem Stempelset Festtagsglanz in Silber auf einen 1 1/2" Kreis embossed.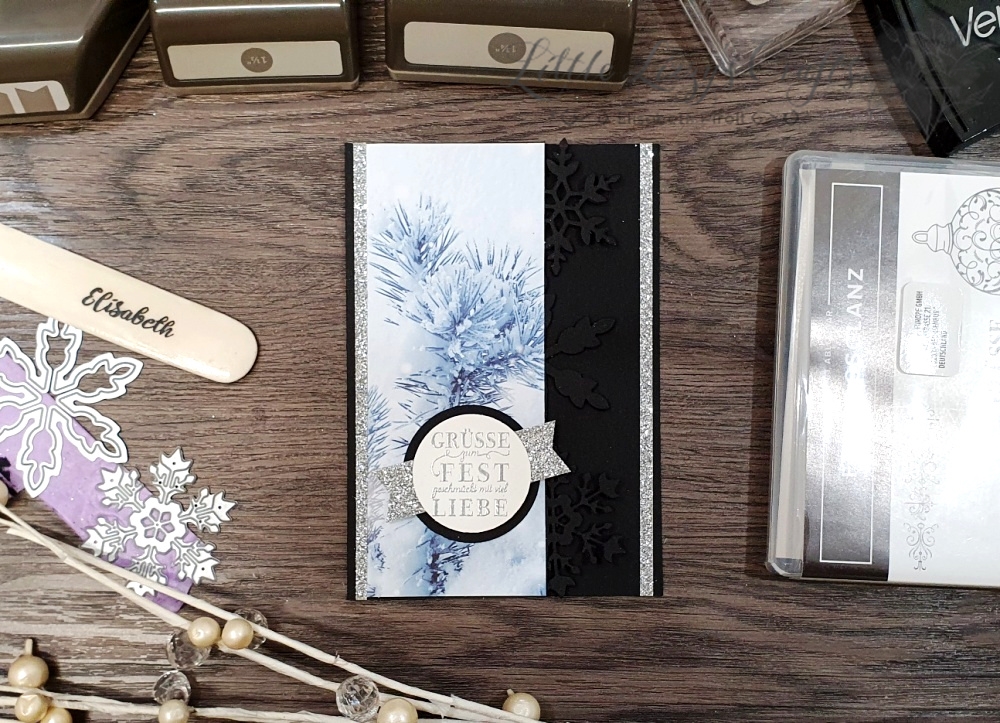 Produkte:
Product List
Amazon Affiliate:
Ich hoffe mein Beitrag zum Stampin' Up! Around The World Advent Calendar Blog Hop hat euch gefallen. Morgen um 8 Uhr geht der nächste Beitrag bei Sue in England online.
Bis zum nächsten Mal und bleibt kreativ!
Eure
Elisabeth
Am 02.12.2020 um 08:00 Uhr geht es weiter bei Sue –>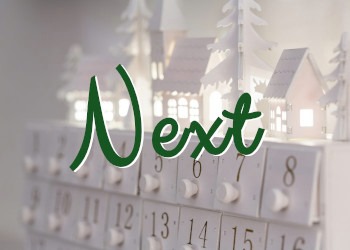 Liste aller Teilnehmer:
December 1st – Elisabeth Pirolt – Little Lizzy's Crafts (AT) – du bist hier
December 5th – Daniela Bruckner – Bastelerie (AT)
December 6th – Kathrin Fuchs – stempelfux (D)
December 7th – Linda Moore – Moore Fun Stamping (US)
December 8th – Astrid Hofmann – Astrids Papiereuphorie (AT)
December 10th – Simone Schmider – simone-stempelt (D)
December 11th – Barbara Maynard – Studio@316 (UK)
December 12th – Linda Moore – Moore Fun Stamping (US)
December 14th – Jana Trautmann (D)
December 16th – Barbara Meyer – Barbaras-Kreativ-Studio (AT)
December 17th – Manuela Auer – Papierteufelchen – (D)
December 19th – Carolin Meinhold – Caro's Bastelbude
December 20th – Kathrin Fuchs (D)